"We may stumble and fall, but shall rise again;
it should be enough if we did not run away from the battle."  — Mahatma Gandhi
This week:
Us humanoids tend to regard ourselves as the pinnacle of evolution when we're actually the little sisters & brothers of creation. But plants, animals and landscape have been around much longer. We have a lot to learn from these teachers about how to live in balance…
International Earth Day 2019- Over 1 Billion People in 192 Countries are Dedicated to Protecting Millions of Animal and Plant Species from Going Extinct:
Did you know…
Insect populations have decreased by more than 75% in Germany over the last 28 years, which is "alarming" because 80% of wild plants rely on bees and other insects for pollination, and 60% of bird species rely on insects for food.
Primates are also under "extraordinary threat," with close to 60% of the world's 504 primate species under threat of extinction and 80% in "severe population decline."
In the past 20 years, by-catch from global fishing operations has affected 75% of all toothed whale species, such as dolphins and porpoises, 65% of baleen whale species, such as humpback and blue whales and 65% of pinniped species, such as sea lions.
In addition, 40% of the world's bird population is in decline, with 1 in 8 species threatened with global extinction.
Big cats, such as leopards, tigers and cheetahs, are in "critical decline," and many will become extinct in the next 10 years. They are often exploited for their body parts and skins, and China retains the biggest market for these items.
Lizard populations are "especially vulnerable" to climate change, according to the organization. If the current decline continues, 40% of lizards will become extinct by 2080.
The American Bison, which one roamed from Alaska to New Mexico in the millions, now occupy less than 1% of their original habitat. The species is now compared to herded cattle due to its "small and tightly controlled" habitat.
Learn more about how Earth Day started and more about this year's theme…
https://abcnews.go.com/International/earth-day-2019/story?id=62552199
The Earth's Prayer:
I wrote this some years ago and shared it before, but for me it feels as relevant today as ever!
The Earths Prayer
Being surrounded by green space in childhood may improve mental health of adults:
Children who grow up with greener surroundings have up to 55 percent less risk of developing various mental disorders later in life.
This is shown by a new study emphasizing the need for designing green and healthy cities for the future.
https://www.sciencedaily.com/releases/2019/02/190226112426.htm
The Power to Rise Again
Enjoy the 'Holy Week' edition of Maria Shriver's Sunday Paper…
https://mailchi.mp/mariashriver/power-to-rise-sunday-paper?e=7d1855a5da
If you are local…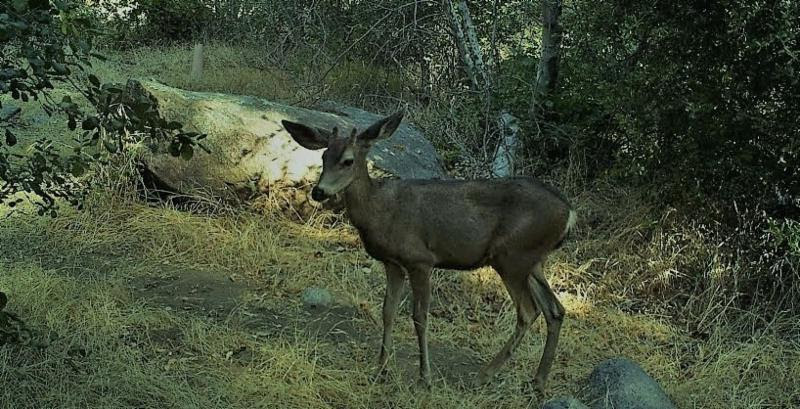 Happy Earth Day 2019!
For nearly five decades, people have celebrated Earth Day on April 22nd. It has become a global day dedicated to creating meaningful connections with nature and taking action.
At The San Diego River Park Foundation, we know that conserving open space and connecting people with it is essential. These nature connections foster lifelong stewardship of the San Diego River and its associated ecosystem.
The deer in the photo above was taken on a property that was conserved by many of the readers of this e-blast who made donations toward its acquisition. Many others have contributed their time and talents to begin to heal this damage land. So when we see a deer, mountain lion, newt or eagle at this property, we pause and reflect.
There is an urgent need to take action in caring for and healing our local environment. The San Diego River ecosystem is globally significant and it is at risk.
Thankful, we can take meaningful action on Earth Day and throughout the year. We are hopeful and remain so appreciative of you. Thank you for your support!
4 SUGGESTIONS TO CELEBRATE EARTH DAY
Join the 100 TREES Campaign
Support Kids Learning How to Plant and Care for Trees
We have set a goal of this fall teaching 100 deserving kids how to plant and care for trees. We have found that not only will they be making a difference for nature, they also will have a lasting connecting to the tree they planted and much more.
We just kicked off a campaign to raise $2000 to support this effort. Your gift of $20 will support one kid having this life changing experience.
Thank you if you have already donated as we have secured funds for 13 students!
83 students to go!
Volunteer: Whether It is One Day a Year or More Frequently
First of all, thank you if you already volunteer!
There are so many different ways to volunteer such as an education docent, office helper, garden steward, or graphic designer. Volunteers are needed for river cleanups, open space management, habitat restoration, field monitoring and trail work. We have single events, monthly events and weekly ones.
To get involved, contact our office at 619-297-7380 or visit our web page.
Become a Monthly Wildlife Club Donor
Acquiring open space which is at risk, is a target of opportunity. Sometimes we need to act fast!
Our Wildlife Club monthly donors are critical to this effort. They provide the assurance that we will have funds to take the first step toward conserving a property. Their funds give us the time to raise additional funds to complete an open space acquisition to permanently conserve a property for the deer, birds, amphibians, trees, and so much more including the American Badger!
It is easy to setup this reoccurring gift of just $8 per month (or more).
Reconnect With Nature – Get Outdoors!
Spring is an incredible time to get out for a walk, hike, roll or ride!
Sometimes just exploring a new view or trail can be a fantastic way to reconnect with nature.
Each year we organize San Diego River Days to provide some opportunities for you.
River Days is May 11 – 19th and there are 55 different activities!
Save the Date – River Days is May 11 – 19th
Together we can create a better future for the San Diego River and its ecosystem
The San Diego River Park Foundation 619-297-7380
Thanks this week go to all stewards of our tiny blue planet!
Please pay it forward…
Love,
Neville