Happy Soul Food Friday
This week:
The Challenge-
The Doomsday Clock Reveals How Close We Are To…Doom
The clock isn't designed to definitively measure existential threats, but rather to spark conversations about difficult scientific topics such as climate change, according to the Bulletin of Atomic Scientists, which created the clock in 1947.
The Doomsday Clock reveals how close we are to…doom – CNN
And
The Bad Guys Are Winning
If the 20th century was the story of slow, uneven progress toward the victory of liberal democracy over other ideologies—communism, fascism, virulent nationalism—the 21st century is, so far, a story of the reverse.
Autocracy Is Winning – The Atlantic
The Antidote-
The Power of Love, Interconnectedness & Nature
Honoring Thich Nhat Hanh and His Teachings:


Plum Village, France 10:30pm 21st January, 2022   Dear Beloved Community,   With a deep mindful breath, we announce the passing of our beloved teacher, Thay Nhat Hanh, at 00:00hrs on January 22, 2022 at Từ Hiếu Temple in Huế, Vietnam, at the age of 95.  
Thay has been the most extraordinary teacher, whose peace, tender compassion, and bright wisdom has touched the lives of millions. Whether we have encountered him on retreats, at public talks, or through his books and online teachings–or simply through the story of his incredible life–we can see that Thay has been a true bodhisattva, an immense force for peace and healing in the world.
Thay has been a revolutionary, a renewer of Buddhism, never diluting and always digging deep into the roots of Buddhism to bring out its authentic radiance.   Thay has opened up a beautiful path of Engaged and Applied Buddhism for all of us: the path of the Five Mindfulness Trainings and the Fourteen Mindfulness Trainings of the Order of Interbeing.

As Thay would say, "Because we have seen the path, we have nothing more to fear." We know our direction in life, we know what to do, and what not to do to relieve suffering in ourselves, in others, and in the world; and we know the art of stopping, looking deeply, and generating true joy and happiness.   Now is a moment to come back to our mindful breathing and walking, to generate the energy of peace, compassion, and gratitude to offer our beloved Teacher.

It is a moment to take refuge in our spiritual friends, our local sanghas and community, and each other.   We invite you to join our global community online, as we commemorate Thay's life and legacy with five days of practice and ceremonies broadcast LIVE from Hue, Vietnam and Plum Village, France, starting on Saturday January 22nd. Please see our website for more details coming shortly: www.plumvillage.org/memorial  

Let us each resolve to do our best over the coming days to generate the energy of mindfulness, peace, and compassion, to send to our beloved Teacher.   Over the coming hours on the Plum Village website, we will publish some inspirational chants, texts, and mindfulness practice resources, to support you to come together with your local sangha to generate a collective energy of mindfulness and compassion, and create your own ceremony or session in tribute to our Teacher.
As Thay has always taught, nothing is more important than brotherhood and sisterhood, and we all know the power of collective energy.

We invite you to share your messages of gratitude or personal transformation and healing on our website: plumvillage.org/gratitude-for-thich-nhat-hanh   With love, trust, and togetherness,   The Monks and Nuns of Plum Village.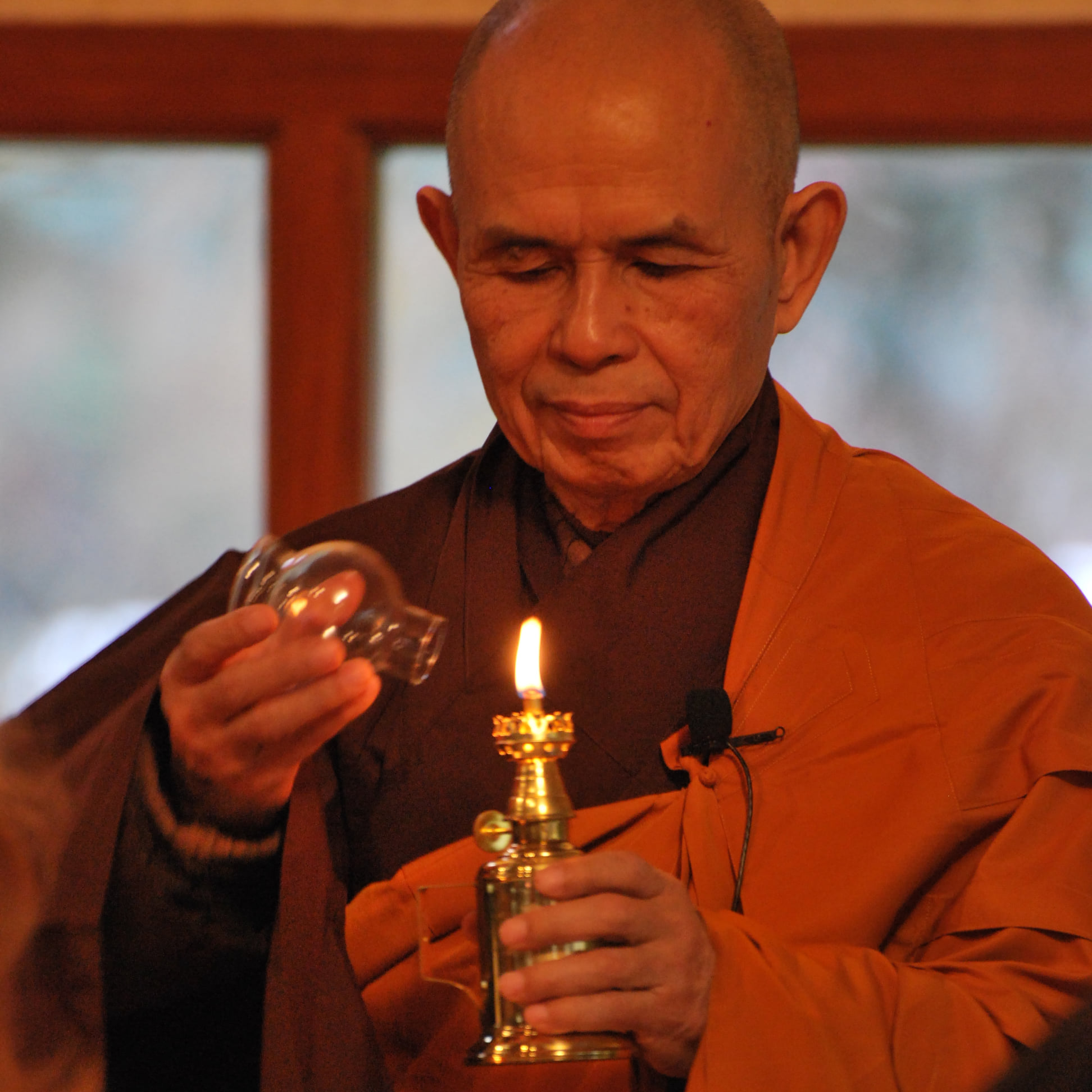 The Thich Nhat Hanh Foundation | 2499 Melru Lane, Escondido, CA 92026  

  "This body is not me; I am not caught in this body, I am life without boundaries, I have never been born and I have never died. Over there the wide ocean and the sky with many galaxies, All manifests from the basis of consciousness. Since beginningless time I have always been free. Birth and death are only a door through which we go in and out. Birth and death are only a game of hide-and-seek. So smile to me and take my hand and wave good-bye. Tomorrow we shall meet again or even before. We shall always be meeting again at the true source, Always meeting again on the myriad paths of life." – Thich Nhat Hanh




Learning Leadership from a Great Master Courtesy of Moshe E and the Amare Wave:
Last week, Thich Nhat Hanh died peacefully at 95 years old. Thầy, as he was known, was a Zen Master, global spiritual leader, and peace activist, renowned for his powerful teachings on engaged Buddhism and bestselling writings on mindfulness and peace.

Thầy was also a model for modern day leadership, one who made love the center of his being and work. Love-centered leadership (the essence of The Amare Wave) believes, as Thầy did, in promoting nonviolent solutions to conflict and raising awareness of the interconnectedness of all beings.

His passing invites us to clarify our own guiding beliefs and principles.
What are your core leadership principles?
Are you willing to commit your company to total non-violence?
Will you integrate the fact of our interconnectedness into your business vision?
"True self is non-self, the awareness that the self is made only of non-self elements.
There's no separation between self and other, and everything is interconnected.
Once you are aware of that you are no longer caught in the idea that you are a separate entity."
– Thich Nhat Hanh
And-
The Profound Power of Nature:
Arizona Monsoons that will reset your state!
Thanks this week go to beloved Master Thay, Moshe E, Killu S, Nicole K, Catherine G and Bob C.
Consider paying it forward…
Love,
Neville
"We will be more successful in all our endeavors if we can let go of the habit of running all the time,
and take little pauses to relax and re-center ourselves.
And we'll also have a lot more joy in living."
– Thich Nhat Hanh
Follow me on Twitter: https://twitter.com/NevilleB108
Follow me on Facebook: https://www.facebook.com/nbillimoria